Final Fantasy XV King's Tale Edition contains:
Final Fantasy XV game
Masamune in-game weapon (FFXV)
Gae Bolg in-game weapon (FFXIV)
In-game travel pack item
A King's Tale: Final Fantasy XV Game

Taking place in a fictitious 30 years before FINAL FANTASY XV, this game features retro-style inspired graphics centered around a fast-paced combat system with influences from modern gaming. The in-depth combat system blends intense attacks, devastating magic, mighty summons and unique companion attacks into a singular gaming experience through three diverse locations in the world of FINAL FANTASY XV.
The story starts when monsters raid the royal capital, Insomnia. Young Regis, joined by Weskham, Cid and Clarus travel to the plains of Duscae only to discover a mysterious cave where their enemy resides. Throughout the tale, King Regis and Noctis interject their own commentary, adding depth and perspective to the story itself. A King's Tale: Final Fantasy XV features retro-style inspired graphics and a fast-paced combat system. The deep combat system combines intense attacks, devastating magic, mighty summons and unique companion attacks into a singular gaming experience through three diverse locations in the world of Final Fantasy XV.
Deep Combat System - Combos, counters, and Regis' signature "Warp Strike" combine for lightning fast real-time combat that rewards fast reflexes and smart tactics.
Companions - Three distinct companions offer unique and new ways to attack as well as tailored super moves that deal massive damage.
Magic - Ignite the battlefield, freeze your enemies, or electrify your foes with Fire, Ice, and Lightning magic.
Summons - Call upon epic Astral entities to decimate your foes in jaw-dropping ways.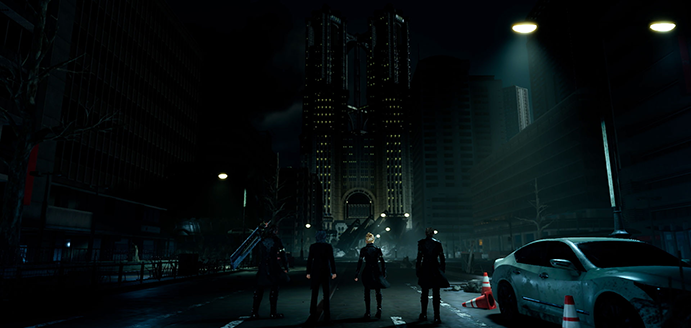 The next epic story is here
Ground-breaking fantasy based on reality
Revolutionary gameplay
Awe-inspiring graphics
Cutting edge technology.
In a matter of days, the Kingdom of Lucis is to sign an armistice, ending a long and bitter conflict with Niflheim. Ahead of the ceremony, Prince Noctis, heir to the Lucian throne, sets forth from his homeland to formalize the union of states through his marriage to the Lady Lunafreya of the imperial province of Tenebrae.
The offer of peace, however, is no more than a ruse to lower the Lucian shield, and the imperial army takes the crown city and its sacred crystal in one fell swoop. En route to his destination, Noctis is shocked to learn that he, his father the king, and his betrothed are believed dead.
Overnight, the dream of peace has faded into a distant memory. His world crumbling around him, Noctis has naught but his resolve and his loyal companions to see him through the trials to come.
What is Final Fantasy XV?
Get ready to be at the center of the ultimate fantasy adventure. Enter the world of FINAL FANTASY XV, and experience epic action-packed battles along your journey of discovery. You are Noctis, the Crown Prince of the Kingdom of Lucis, and your quest is to reclaim your homeland from the clutches of the imperial army.
Joined by your closest friends, you will take the wheel and experience a voyage like no other, traveling through the breathtaking world of Eos encountering larger-than-life beasts and unforgiving enemies. You will learn to master the skills of weaponry and magic, channelling the power of your ancestors allowing you to effortlessly warp through the air in thrilling combat.
Fresh faces and long-time fans, fulfill your destiny and experience a brand new kind of fantasy.
Story
Enroute to wed his fiancée Luna on a road trip with his best friends, Prince Noctis is advised by news reports that his homeland has been invaded and taken over under the false pretense of a peace treaty – and that he, his loved one and his father King Regis, have been slain at the hands of the enemy.
To gather the strength needed to uncover the truth and reclaim his homeland, Noctis and his loyal companions must overcome a series of challenges in a spectacular open world - that is filled with larger-than-life creatures, amazing wonders, diverse cultures and treacherous foes.