This Preowned game may not include the original box art or manual,
but we all know it's what's on the inside that counts!
On the rare chance your game is anything less than awesome give our Customer Service Team a call and we'll organise a free return and replacement.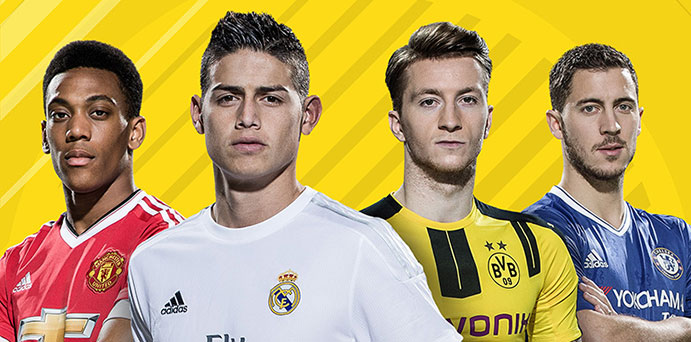 The leading football game franchise is back, with new and improved features and gameplay
Fantastic story mode to create your own football star
Great FUT online community for trading players to create the best team for online and single player tournaments
Powered by Frostbite™, one of the industry's leading game engines, FIFA 17 delivers authentic, true-to-life action, takes players to new football worlds, and introduces fans to characters full of depth and emotion. FIFA 17 immerses you in authentic football experiences like The Journey, a brand new cinematic and narrative-driven mode where you will live your professional football story as Alex Hunter, a touted prospect about to make his debut in the Premier League. In gameplay, complete innovation in the way players think and move, physically interact with opponents, deliver set pieces, and attack using new techniques let you own every moment on the pitch.
EA Sports Presents: FIFA 17, The Journey
For the first time in the FIFA franchise, live your story on and off the pitch as the Premier League's next rising star, Alex Hunter. Play on any club in the Premier league, for authentic managers and with some of the best players on the planet. Experience brand new worlds in FIFA 17, all while navigating your way through the emotional highs and lows of The Journey. 
We're on the verge of the 2016/17 season and you star as Alex Hunter, a youth prospect in England at the start of his Premier League career. A prospect with obstacles to overcome, a name that carries weight in football circles, and a personal legacy to build. Standing in Alex's way are big challenges on the pitch and difficult decisions off of it – now's your chance to live The Journey and experience a side of football familiar to only those in the top flight. 
Who is Alex Hunter? 
A touted prospect, Alex Hunter is on a journey to make his mark in the Premier League. Emerging as one of the best young prospects in the academy and bearing a recognized name in football, the expectations are high and the opportunity is there for Alex to perform on the world's biggest stage.  Alex discovers at a young age that he too has the family talent and works hard under his grandfather's tutelage to land himself in a position to achieve his dreams. It's all in front of him now, in the Premier League.
Your Performance. Your Decisions. Your Story. 
In The Journey, Alex Hunter's Premier League career is defined by your performance on the pitch and the decisions you make off of it. Make critical decisions throughout the game that will change what happens next and how other characters react to you.
Club Choice: Choose to play with any of the 20 Premier League Clubs of the 2016/17 season. 
Character Interactions: Answer questions from media and other characters that will shape your personality and journey along the way.
Manager Objectives: Meet or fall short of manager expectations set for you ahead of each match. Your performance on the pitch can change your experience in The Journey.
Traits & Attributes: Customize Alex Hunter's on-pitch abilities as you receive points to increase your attributes.   
Authenticity Story Lines
The Journey will pull you through a true-to-life experience in the Premier League. It's a cinematic world informed and influenced by real players, personalities, locations, and events that take players places they've never been. 
<p"> OWN EVERY MOMENT IN GAMEPLAY</p">
New Attacking Techniques: New options in attack give players more ways to create chances and finish in front of goal.


Driven Finish: A new shot mechanic lets players keep the ball low in any situation – finesse, volley, or simply slot it home.
Downward Headers: Greater control in direction allows players to head the ball down, making keepers work harder.
Threaded Through Pass: Increase power on through balls, and create new scoring chances with threaded through passes. 
Driven Goal Kicks: Start a quick counter attack by passing it out from goal with power and direction.
Active Intelligence System: A brand new system introduces spatial analysis, increases activity off the ball, and changes the way players move, read, and react.


Constant Spatial Analysis: Now every player analyzes the proximity of their opponents and the space around them to better find opportunities in attack. 
New Run Types: Smarter players and increased activity off the ball give you creative ways to open up the opposition including multiple-player runs, fake runs, staggered and stunted runs.
Physical Play Overhaul: A transformation in the way players physically interact in all areas of the pitch. Control is now in your hands as you battle for space and possession by introducing a new mechanic (Physical Play button) which players can use to trigger physical play.


Pushback Tech: U.S. patent pending technology brings innovations to trapping, dribbling, physics, and defending to create true-to-life battles for position and the ball.
New Physical Interactions: Player interactions come to life in realistic detail across the entire pitch including shielding, goalkeeper collisions, seal outs, and many more.
360° Shield Dribble: New proximity-based shielding will help you fend off opponents and keep possession of the ball – players now understand where the biggest defensive threat is approaching from and step in front if the mechanic is played in time. 
Set Piece Rewrite: From free kicks to penalties to corner kicks, inject personality and variety from every dead ball situation


New Penalties: Move freely in your run up on the ball, approach from different angles and at different speeds, and put some personality on your penalties.
New Corner Kicks: A new targeting system from corners lets you pick out teammates with greater precision and changes the way your teammates move off the ball as you deliver the pass.
Free Kicks: Customize your run up on free kicks to create more variety in the spin and movement on the ball. You can now deliver shots like outside of the foot direct free kicks that bend around the wall.
User controlled throw-ins: Walk the line to gain a better position on your throw, send your opponent the wrong way with fake throws, and throw it with pace to teammates.