**This accessory requires a smartphone and the Pokémon GO app**
Includes
1 x Pokémon GO Plus
1 x Pokémon GO Plus wristband (Diameter when worn: approx. 4 - 7 cm. Material: Polyester)
1 x Lithium coin cell battery (pre-installed)
**This accessory requires a smartphone and the Pokémon GO app**
Includes
1 x Pokémon GO Plus
1 x Pokémon GO Plus wristband (Diameter when worn: approx. 4 - 7 cm. Material: Polyester)
1 x Lithium coin cell battery (pre-installed)
Enjoy the Pokémon GO experience without looking at your smartphone
Pokémon GO Plus connects to smartphones via Bluetooth low energy and notifies players about nearby Pokémon and PokéStops. When a Pokémon is near, the device will vibrate and its LED will flash green. Players can press the button on the device once close to throw a Poké Ball. A successful catch will result in the device flashing and vibrating.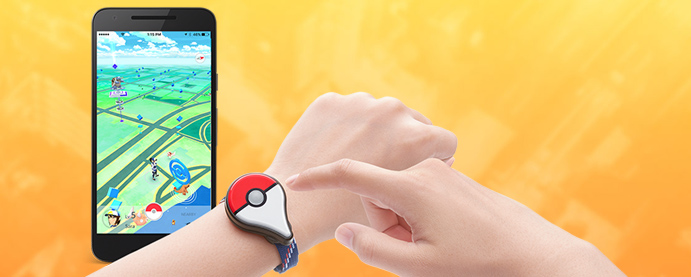 Please note: Pokémon GO Plus is unable to provide an alert for any Pokémon if the in-game item Incense is being used.
The Pokémon GO Plus will also blink and vibrate whenever in range of a PokéStop, allowing players to receive items with a simple tap of the Pokémon GO Plus button. When your Pokémon Go Plus is connected, even if you turn off your phone's display, the distance you walk will make progress towards hatching Eggs and gaining Candy with your buddy Pokémon.
Compatibility:
To use the Pokémon GO Plus device with the Pokémon GO app, by Niantic Inc, an app update is required. Pokémon GO Plus is compatible with the following operating systems:
iOS
Compatible OS versions: iOS 8 - 9
Compatible with: iPhone® 5/5c/5s/SE/6/6s/6 Plus/6s Plus.
Android
Compatible OS versions: Android 4.4 - 6.0
Compatible with: Android 4.4 or higher that have Bluetooth® Smart(Bluetooth v4.0 or higher) capability and RAM2GB or more.